Crop top and cheeky cut set
AIRAVATA'S animal print bikini set. Crop top and cheeky bikini bottom. From the Downtown collection, inspired by the streets of Miami in contrasting colors, black and baby blue.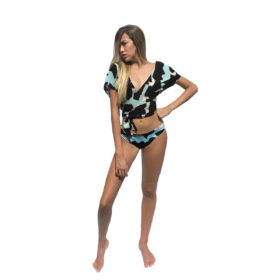 AIRAVATA My name is Carolina Ganan and I'm Airavata's creative director, I was born in New York on August 9, 1990. I'm a Fashion Designer from the Escuela Felicidad Duce in Barcelona today La Salle Collage. I spent my years of research and study between the Instituto Europeo Di Designe in Milan and the Escuela Felicidad Duce in Barcelona. Airavata was born from the ideal of supplying the need to offer a high-quality product with clear differentiation. Since I Identify that although the brands evolve, most do it towards the same path, which leads us to a market a bit flat. Airavata is my need to break with the line and offer versatility to the market.
Made in Colombia
Does not include inner cup
High rise bottom
Minimal back coverage: lots of cheek peek
The model wears a size small
Rinse by hand with neutral pH soaps. Drain very well and carefully, spread immediately. Do not overlap the garments while drying.