Searching for the perfect dress can be overwhelming, to say the least. But when you know, you know. Here at Matsur'i we use premium floral embroidered lace fabric with beadwork embellishment. This beautiful grey gown seems to glow in the moonlight; light grey lining brightens this formal dress for a glowing look. You will look stunning in this breathtaking decadent maxi length evening dress. Hardly any other garment has the capacity to showcase as much feminity and elegance. This elegant evening gown is love at first sight.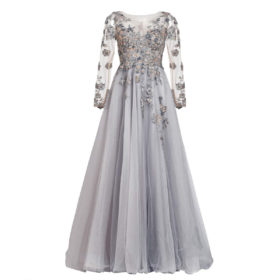 Made in Germany
Details: Lace/Skin color
Materials: Lace/Tulle
UK 10 / S (cm): Chest 88-90, Waist 68-70
UK 10 / S (inch): Chest 34-35, Waist 26-27
MATSOUR'I is a dress designer of the most contemporary and unique designs you find anywhere in the fashion world. Based in Berlin Matsour'i offers a handmade, limited edition of feminine and dreamlike designs. Since childhood, Ilona has always been inspired by current trends while also drawing inspiration from the emotions, memories, and feelings that only a true artisan can channel into a stunning dress design. The results are dresses for every occasion, made by an inspired perfectionist who knows how to make memories starting with your style.