TONYA HAWKES
Amethyst healing properties are renown since ancient times. It's the birthstone for February, so it holds special meaning to me as a February baby. The crystals themselves activate the mind, intuition and serve as vibrational protection.Abundance is also said to be activated by amethysts. Historic civilizations around the world believed the amethyst was synonymous with luxury– creating jewelry, amulets and crowns with the beautiful stones.
Amethyst Ice Dora is a luxe complement to your style with her elegant sculptural hardware and tassels that flutter with your every step. Fits phone, sunnies and a dash of royal energy.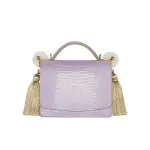 -Light purple lizard cowhide embossed leather
-Cotton side tassels
-Full flap magnetic closure
-Top handle
-Detachable shoulder strap
-White resin
-Leather lining
-Inside pocket
Height 14cm ( 5.5 inches )
Length 18cm ( 7 inches )
Width 6.5cm ( 2.6 inches )
Strap Drop 53cm ( 20.9 inches )
To protect the natural softness, the leather has not received any waterproofing. Therefore, you must protect the item rain and dry it immediately with a cloth whenever it gets wet.
TONYA HAWKES the collection features an eclectic array of shapes and forms, inspired by a wildly diverse set of design references. The Backdrop of exotic skins – such as ostrich, Nappa, lacquered calfskin and matte snakeskin – plus textured features, such as suede ruffles, laser cut lattice, acetate detailing and hand-finished tassels – all lend the bags the right balance between ornamental embellishment and collage-style minimalism. Made from a mix of the exotic and the sculptural, the materials are sourced from the finest tanneries and suppliers, and largely finished in Italy by specialist artisans. Each piece is a labor of love and a testament to Hawkes' singular design vision: each one a true collectible in its own right.