TONYA HAWKES
An inventive approach can elevate the everyday into something sublime. Lift a line, bend a curve, add a detail and suddenly you've shifted from ordinary to extraordinary!
Flirting side tassels breaks the mold of the expected day bag and makes Ms. Dora by definition day to night ready! This burgundy embossed snake skin flirty full flap structured sculpture with top handle convertible crossbody allows you to walk the walk of confidence and be hands-free fabulous.Cards, phone, gloss and a little magic–just tuck them in this leather lined fabulousness and off you go on your own unique path.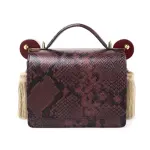 -Burgundy snake cowhide embossed leather
-Cotton side tassels
-Full flap magnetic closure
-Top handle
-Detachable shoulder strap
-Faux tortoise resin
-Leather lining
-Inside pocket
Height 14cm ( 5.5 inches )
Length 18cm ( 7 inches )
Width 6.5cm ( 2.6 inches )
Strap Drop 53cm ( 20.9 inches )
To protect the natural softness, the leather has not received any waterproofing. Therefore, you must protect the item rain and dry it immediately with a cloth whenever it gets wet.
TONYA HAWKES the collection features an eclectic array of shapes and forms, inspired by a wildly diverse set of design references. The Backdrop of exotic skins – such as ostrich, Nappa, lacquered calfskin and matte snakeskin – plus textured features, such as suede ruffles, laser cut lattice, acetate detailing and hand-finished tassels – all lend the bags the right balance between ornamental embellishment and collage-style minimalism. Made from a mix of the exotic and the sculptural, the materials are sourced from the finest tanneries and suppliers, and largely finished in Italy by specialist artisans. Each piece is a labor of love and a testament to Hawkes' singular design vision: each one a true collectible in its own right.