Alemais
Women's Multicolor Jedda Tie Sleeve Gown
Alemais Jedda Tie Sleeve Gown


The Alemais designer Jedda Tie Sleeve Gown is the epitome of timeless elegance and sophistication. The Jedda Tie Sleeve Gown are crafted from the finest fabrics and feature exquisite detailing that sets them apart from the rest. The Jedda Tie Sleeve Gown includes a range of styles, from classic A-line dresses to sleek and modern sheath dresses and tops.

Each Jedda Tie Sleeve Gown is designed to flatter the female form, with expert tailoring that accentuates curves and creates a flattering silhouette. The Multicolor palette is rich and varied, with deep jewel tones, soft pastels, and bold prints that make a statement. The Jedda Tie Sleeve Gown is versatile enough to be worn for any occasion, from a formal gala to a casual brunch with friends. Paired with the right accessories, they are sure to turn heads and make a lasting impression.

The Alemais designer Jedda Tie Sleeve Gown is the perfect choice for the woman who wants to look and feel her best, no matter where she goes.

Get your hands on the hottest trend and show off your clever style. How to style maxi dress

You may want to check out our styling edit and learn more about how to style a maxi dress, and how to wear red and green colors in the season trend. How to style maxi dress

VIEW MORE: ALEMAIS, Fur Coats, Sable Coat, Mink Coats, Coats, Designers, British Designers, Arab Designers, Women's, Women's Clothing, Modern Modesty, The Dress Edit, The Refresh Edit,  Dresses, cocktail party Dresses, Midi Dresses, Maxi Dresses, Tops, Skirts, cocktail parties. luxury kaftan dresses, Aje, Wonderland Kaftan, feather dresses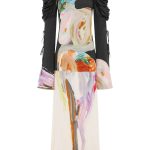 At the meeting point of the sun and the moon springs a neon leak, the Jedda Tie Sleeve Gown flows through. Designed in collaboration with artist Jedda Culley, the oversized alien mother is tall and proud, seeking to make seen the spirited and often invisible aspects of a woman's power. The dramatic draped shoulder detail highlights the strength and metaphysical nature of the almighty 'mother' within us all.
Artwork in collaboration with artist Jedda Daisy Culley
Draped sleeve with ties
Internal shoulder pads
Fully lined
Featured in our debut Runway as part of our Resort '24 Collection
Exclusively made to order to ensure that no excess stock is created
Composition: 100% Viscose Crepe
Responsible Sourcing: To meet this criteria, a garment must contain a minimum of 50% responsibly sourced viscose, that minimises the risk of illegal logging and forest endangerment. This is verified by FSC ( Forest Stewardship Council) or sourced from a Canopy Green Shirt Approved supplier. Other accepted fibres include Responsibly Sourced Wool. It must incorporate at least 50% wool from suppliers adhering to the Responsible Wool Standard, ensuring the welfare of sheep. Compliance with these sourcing standards requires supporting documentation.
PRODUCTION AND SHIPPING DETAILS
Shipping directly from Dubai, UAE.
Ready to ship items in 3-5 working days.