Kush Leather High-Top White Sneakers
Here's a shoe you can rock during daylight, then carry on into the wee hours of the night.
Handcrafted with cross-perforated embossing and a distressed gold tongue, the Kush sneaker adds some serious shine to your street style wardrobe. An eye-catching gold front zipper makes 'lacing up' a cinch. You can also wear it unzipped to reveal the Kush's golden tongue for a bit of sidewalk runway glamour.
Be effortlessly stylish with the white and gold Kush high top sneakers.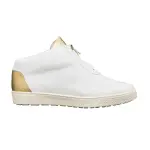 ASHLEY LIM creates beautiful shoes that combine contemporary designs with high-quality craftsmanship. Architecturally inspired, every style is crafted to effortlessly transition from a confident nine-to-five to a vibrant evening with a superb level of comfort.It's the Holy Grail: the search for the season's most stylish shoes, yet so comfortable that they are a pure joy to live in as well. This quest for perfect balance is what defines ASHLEY LIM shoes, which combines the best of Seoul's hand-craftsmanship with Sydney's contemporary design sensibility. ASHLEY LIM believes women can have it all: stylish, memorable and elegant shoes that are so comfortable, they can effortlessly transition from the nine-to-five day to a high-octane evening. If 'luxury' is defined as a state of superior comfort and elegance – a pleasure rarely obtained – then it is our commitment to bringing luxury to everyday necessity and making every ordinary day, extraordinary.
Fits true to size, we recommend taking your standard size.
Heel height: 30 mm / 1.18"
Cross-perforated leather upper with textured tongue
Leather lining
Cushioned footbed
Non-slip rubber outsole
Handmade
Australian Designer
Clean your shoes regularly.