LAGARDE Leather Ankle Boots - Black
Fashion-forward and sophisticated, Lagarde ankle boots are available in two heel heights: 7cm & 4cm. Simply send us a message with your choice after placing your order.
Lagarde black encapsulates the spirit of our latest collection, WORKING GIRL. It's a work wardrobe staple with a contemporary edge. Immaculately handcrafted from soft sheepskin leather, the front slit with the curved collar and satin gold eyelets, combined with an elegant pointed toe profile have a leg-lengthening effect. The distinctive faux-tortoiseshell sculpted heel amplifies its dramatic aesthetic.
The curved collar can be folded down depending on your mood and hemlines.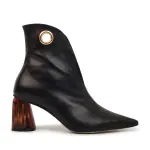 ASHLEY LIM creates beautiful shoes that combine contemporary designs with high-quality craftsmanship. Architecturally inspired, every style is crafted to effortlessly transition from a confident nine-to-five to a vibrant evening with a superb level of comfort.It's the Holy Grail: the search for the season's most stylish shoes, yet so comfortable that they are a pure joy to live in as well. This quest for perfect balance is what defines ASHLEY LIM shoes, which combines the best of Seoul's hand-craftsmanship with Sydney's contemporary design sensibility. ASHLEY LIM believes women can have it all: stylish, memorable and elegant shoes that are so comfortable, they can effortlessly transition from the nine-to-five day to a high-octane evening. If 'luxury' is defined as a state of superior comfort and elegance – a pleasure rarely obtained – then it is our commitment to bringing luxury to everyday necessity and making every ordinary day, extraordinary.
Heel height: 70mm / 2.8″ or 40mm / 1.6″
Pointed toe
Sheepskin leather upper
Leather lining and insole
Cushioned footbed
Non-slip outsole
Handmade
Australian Designer
Clean your shoes regularly.