Silvia Tcherassi
Women's Logan Rose Motif Blue Maxi Dress
Silvia Tcherassi Blue Logan Dress Blue Rose Motif
Silvia Tcherassi's Logan Dress Blue Rose Motif is the epitome of luxury and romance. She has perfected the art of blending timeless and modern designs in order to create pieces that are both stylish and timeless. No matter the occasion, her dresses, and kaftans can help any woman feel glamorous and beautiful. Silvia Tcherassi's designer Logan Dress Blue Rose Motif is the epitome of timeless elegance and sophistication. The Logan Dress Blue Rose Motif are crafted from the finest fabrics and features exquisite detailing that sets them apart from the rest. The Logan Dress Blue Rose Motif includes a range of styles, from classic A-line dresses to sleek and modern sheath dresses and tops. Each Logan Dress Blue Rose Motif is designed to flatter the female form, with expert tailoring that accentuates curves and creates a flattering silhouette. The Blue palette is rich and varied, with deep jewel tones, soft pastels, and bold prints that make a statement. The Logan Dress Blue Rose Motif is versatile enough to be worn for any occasion, from a formal gala to a casual brunch with friends. Paired with the right accessories, bag, and shoes you will be sure to turn heads and make a lasting impression. Silvia Tcherassi dresses offer style and sophistication that is timeless and unique. Their designs are perfect for any occasion, from a night out to a day at the office. Whether you're looking for something casual or something to make a bold statement, Silvia Tcherassi has a dress that is perfect for you.
The Silvia Tcherassi designer Logan Dress Blue Rose Motif is the perfect choice for the woman who wants to look and feel her best, no matter where she goes.
Get your hands on the hottest trend and show off your clever style.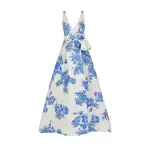 The spectacular Logan dress is back for Spring 2023! The showstopping gown is cut in a printed white taffeta with blue rose motifs. It features a sleeveless, v-shaped neckline and a fitted waistband that flares out into a wide, floor-length A-line skirt. It's effortlessly elegant in a classic yet minimalistic way. The waistband has a decorative bow that accentuates the waist and sits off-centered in a robe-like tied knot. Truly a timeless and regal work of art.
PRODUCTION AND SHIPPING DETAILS
Shipping directly from USA.
Ready to ship items in 3-5 working days.