Screen-printed sweatshirt with Love Eye illustration created by the designer
Clothing has a second skin role beyond these functional benefits, it also has emotional benefits.
Green is linked to the heart chakra, it symbolizes self-acceptance, love, wisdom and compassion and group awareness, self-expression, our thoughts and our intuition.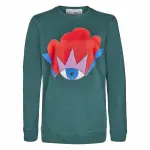 Back in France, Julia Colléaux is now Eli Grita. starts making bags, carefully selecting designs, shapes and colours according to their meanings. Because each woman is unique, so are her bags. Mindful of her environmental impact, Julia decides to adopt an upcycling method, using excess leather from the most prestigious brands.
The success of the brand convinces Julia that she is onto something and realises it is time to create innovative and different garments. She dreamt of an attire that would give back their power to women and reveal their authenticity. This is born the POWER JACKET. Each is carefully designed to reveal and elevate the power that is dormant within us.
Size :- One Size
100% organic cotton