``Monogramme`` Silver Cufflinks

MONOGRAMME 925 silver cufflinks with a design type "barbell" with monogrammed and engraved cube. Polished finish.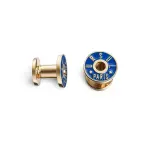 URSUL Handmade in Paris, Ursul is a unisex jewellery brand designed by Alexis Théry. Each piece bears an elegant U-shaped notch and is lovingly created with detail and precision. Precious and non-precious metals are chosen for their longevity while the leather used comes from the best luxury leather goods craftsmen, delivered with the exceptional quality France is renowned for. Finished to absolute perfection; quality, creativity, and skill are clear elements presented in each and every Ursul piece. butterflies.
To maintain a beautiful shine wipe with a clean polish cloth to remove oils and perspiration. Avoid contact with harsh chemicals or perfumes.