Malone Souliers
Women's Montana Steel Blue Lace Up Pumps
Malone Souliers Montana Steel Blue Lace Up Pumps
Montana returns this season in beguiling metallic blue. For AW23, we looked to retrofuturism to inspire our choice of colours and fabrics. Montana is a pointed toe pump that's crafted from steel blue elaphe. Sitting atop an 85mm heel, its considered cutaways flatter the foot, while a lace-up vamp adds drama. The buckle-fastening ankle strap allows for ease of wear.
Elevate your style with Malone Souliers pumps.
Malone Souliers Montana Steel Blue Lace Up Pumps are the epitome of timeless elegance. With their exquisite craftsmanship and attention to detail, these shoes have become a staple in the wardrobes of fashion-forward women around the world. From red carpets to boardrooms, Malone Souliers Montana Steel Blue Lace Up Pumps exude a sense of sophistication and grace that is unmatched.
Malone Souliers is a British fashion designer known as a luxury footwear brand known for its exquisite craftsmanship and unique designs. Malone Souliers founded in 2014 by Mary Alice Malone and Roy Luwolt, the brand has quickly gained recognition for its attention to detail and use of high-quality materials. Malone Souliers Montana Steel Blue Lace Up Pumps are characterized by their elegant silhouettes, intricate detailing, and bold color combinations, making them a favorite among fashion-forward individuals seeking statement footwear. With their combination of style and comfort, Malone Souliers Montana Steel Blue Lace Up Pumps have become a go-to choice for those looking to elevate their outfit with a touch of sophistication.
Another reason why Malone Souliers Montana Steel Blue Lace Up Pumps are so beloved is their ability to transcend trends. While other shoe styles may come and go, these pumps remain a timeless classic. Their elegant design and impeccable craftsmanship ensure that they will never go out of style. Investing in a pair of Malone Souliers Montana Steel Blue Lace Up Pumps is not just a purchase, it's a lifelong investment in style and sophistication. Paired with the right accessories, they are sure to turn heads and make a lasting impression.
Get your hands on the hottest trend and show off your clever style.
VIEW MORE: Malone Souliers, Designers, Women's, Women's Shoe,  Designers, British Designers, Arab Designers, Women's, Women's Clothing, Modern Modesty, The Dress Edit, The Refresh Edit,  Dresses, cocktail party Dresses, Midi Dresses, Maxi Dresses, Tops, Skirts, cocktail parties. luxury kaftan dresses, feather dresses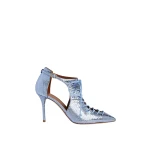 Colour: Steel Blue
Material: Metallic Elaphe
Sole and Lining: 100% Leather
Style: Heeled Pumps
Handmade in Italy
Fitting: Small to size, half a size up is recommended
Fits small to size, take half a size larger
Italian sizing
Model wears size IT37, US6.5, UK4, FR38
Heel height 85mm/3.3in
PRODUCTION AND SHIPPING DETAILS
Shipping directly from the UK.
Ready to ship items in 3-5 working days.