LaPointe
Women's Satin Halter Gown
<
Lapointe Purple Satin Halter Gown
The LaPointe designer Purple Satin Halter Gown is the epitome of timeless elegance and sophistication. The Satin Halter Gown are crafted from the finest fabrics and feature exquisite detailing that sets them apart from the rest. The Satin Halter Gown includes a range of styles, from classic A-line dresses to sleek and modern sheath dresses and tops.


EachLapointe Purple Satin Halter Gown is designed to flatter the female form, with expert tailoring that accentuates curves and creates a flattering silhouette. The Lapointe Purple palette is rich and varied, with deep jewel tones, soft pastels, and bold prints that make a statement. The Lapointe Purple Satin Halter Gown is versatile enough to be worn for any occasion, from a formal gala to a casual brunch with friends.


Paired with the right accessories, they are sure to turn heads and make a lasting impression. The LaPointe designer Lapointe Purple Satin Halter Gown is the perfect choice for the woman who wants to look and feel her best, no matter where she goes.


Get your hands on the hottest trend and show off your clever style. How to style maxi dress


You may want to check out our styling edit and learn more about how to style a maxi dress, and how to wear red and green colors in the season trend. How to style maxi dress


VIEW MORE: Fur Coats, Sable Coat, Mink Coats, Coats, Designers, British Designers, Arab Designers, Women's, Women's Clothing, Modern Modesty, The Dress Edit, The Refresh Edit,  Dresses, cocktail party Dresses, Midi Dresses, Maxi Dresses, Tops, Skirts, cocktail parties. luxury kaftan dresses, Aje, Wonderland Kaftan, feather dresses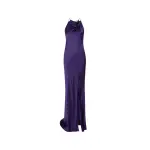 Cowl Neck
Gown Length
High Slit Detail
Zip Closure at Back Neck
Material: 61% Acetate, 39% Viscose
Care: Dry Clean Only
Country of Origin: USA
Sustainability Certification: FSC (Green Stewardship Council certification)


PRODUCTION AND SHIPPING DETAILS
Ready to ship items in 3-5 working days.
We've got you covered
One shipping fee
Free returns pickup service within 14 days
All our deliveries are express delivered with DHL
Complimentary free return pickup within 14 days
It is ok if you changed your mind we offer a free return pickup service within 14 days from the day you received your order.
Taxes & Duties
All import duties are not included in your order. As the recipient, you must instead pay these directly to our carrier to release your order from customs upon arrival.
For US customers, Coveti does not collect sales or use tax in all states. Your purchase may be subject to sales or use tax unless your state is exempt from taxation. Some states require a sales/use tax return filing at the end of the year for taxable purchases that were not taxed (including internet purchases) and payment of use tax on those purchases.
Should you need further support get in touch by email