Asymmetric long red dress
Talented 3/4 length shirtdress with one sleeve and contrasting corset detail and side pockets. . This piece will become an effortless outfit for every occasion constructed from high quality fabric and feature signature one button in the chest area is in different colour.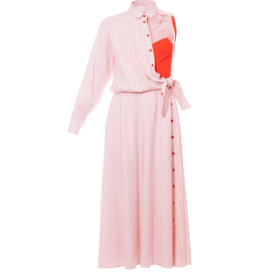 Talented Established in 2013 by Indra Komarova, Talented is a unique ready-to-wear fashion brand from Riga. Indra Komarova has Master of Arts from Art Academy of Latvia where she's now teaching young fashion students. She was awarded with Grand Prix during taking part in the number of fashion contests. All collections are based on the idea of creating handmade classic and military apparel for men and women. Pieces are made from carefully selected fabrics and focus on precise silhouettes and attention to details.
VIEW ALL TALENTED
Full length 135 cm
Dress: 100% Cotton
Detail: 96% Cotton, 4% Elastan
Model is 175 cm tall and wears size S.