Ideal for basic wardrobe. The top is made of practical and body-friendly fabric with a dense structure resembling knitwear. It is not subject to traction and the formation of spools.
The model of this top is invariably presented every season in the Sol line. With pants from the Section series, it will look like a suit.
A nice cut top with a V-neck made of nice fabric.
Long tapered sleeve.
Small cuts on the sides.
Straight fit.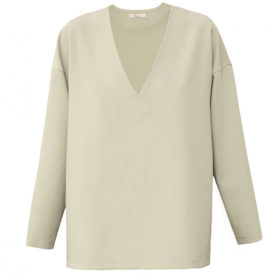 Based in Russia, the Sol Selivanova Olga of its founder and designer is a ready-to-wear womenswear label that specialises in luxury, handcrafted high-quality pieces. Sol Selivanova Olga commitment is to make an elegant and relaxed collection without compromising key values of its luxury. Each collection is a small story of a modern woman who appreciates style, comfort and designer approach to a classic cut. If this is about you, then you have found your brand, and we will make sure that you stay with us forever!
Made in Russia
One size
Chest circumference -112 cm
Waist – 112 cm
Hips – 112 cm
Sleeve length from the neck – 70 cm
Product length – 70 cm
STRUCTURE
70% viscose 25% polyester 5% elastane