Unusual thing in a sporty style. Can be worn on any shirt. It will also perfectly complement the look with Studio 54 dress.
Cropped top with sleeves, made of sports mesh.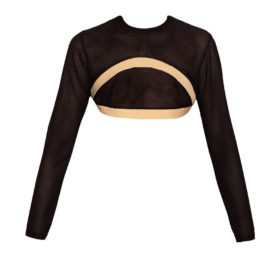 Based in Russia, the Sol Selivanova Olga of its founder and designer is a ready-to-wear womenswear label that specialises in luxury, handcrafted high-quality pieces. Sol Selivanova Olga commitment is to make an elegant and relaxed collection without compromising key values of its luxury. Each collection is a small story of a modern woman who appreciates style, comfort and designer approach to a classic cut. If this is about you, then you have found your brand, and we will make sure that you stay with us forever!
Made in Russia
STRUCTURE: 100% Tesla