Here we present another all round stunner – this wonderful jacquard dress-blouse. The jacquard fabric uses cotton as a base. Different variations of this are possible. Change the length and wear mini or midi length or as a blouse as per your needs. This variation in length is made possible by the fact that parts of the fabric are removable. The individual parts are connected by zippers. With this dress you are buying not just one dress, but five! Choose the length of the dress according to the occasion you want to wear it to.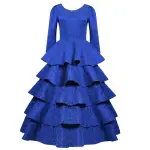 Made in Germany
Details: belt, zipp
Sleeve length: 47 cm
Length from waist to edge: 90 cm
Material: Jacquard, 70% Cotton, 25% Polyester, 5% Spandex
Care Instructions: Machine wash 30°C
UK 8 / XS (cm): Chest 84-86, Waist 64-66
UK 8 / XS (inch): Chest 33, Waist 25-26
UK 10 / S (cm): Chest 88-90, Waist 68-70
UK 10 / S (inch): Chest 34-35, Waist 26-27
UK 12 / M (cm): Chest 92-94, Waist 72-74
UK 12 / M (inch): Chest 36-37, Waist 28-29
UK 14 / L (cm): Chest 96-98, Waist 76-78
UK 14 / L (inch): Chest 37-38, Waist 30 – 31
MATSOUR'I is a dress designer of the most contemporary and unique designs you find anywhere in the fashion world. Based in Berlin Matsour'i offers a handmade, limited edition of feminine and dreamlike designs. Since childhood, Ilona has always been inspired by current trends while also drawing inspiration from the emotions, memories, and feelings that only a true artisan can channel into a stunning dress design. The results are dresses for every occasion, made by an inspired perfectionist who knows how to make memories starting with your style.