Tunic With Embroidery Sexy Cats
Long tunic made of mesh with author's embroidery of the Spring-Summer season '20.
Neckline and side seams in contrasting black cotton trim.
The armhole and hem are decorated with lace braid.
Under the line of gurdy gum.
Lace decor.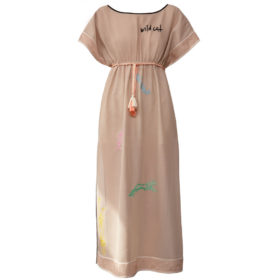 Based in Russia, the Sol Selivanova Olga of its founder and designer is a ready-to-wear womenswear label that specialises in luxury, handcrafted high-quality pieces. Sol Selivanova Olga commitment is to make an elegant and relaxed collection without compromising key values of its luxury. Each collection is a small story of a modern woman who appreciates style, comfort and designer approach to a classic cut. If this is about you, then you have found your brand, and we will make sure that you stay with us forever!
Made in Russia
STRUCTURE: 100% viscose
Product Length 127cm