B-Low The Belt
Women's Bri Bri Leather Belt
B-Low The Belt Black Bri Bri Leather Belt
The famous Bri Bri, is part of the Core Collection. This western-inspired design incorporates a supple leather strap and detailed double buckle. Designed to be worn around the
Bri Bri Leather Belt from B-Low The Belt is a designer leather belt brand based in Los Angeles. Each Bri Bri Leather Belt is an extension of your style and personality.
The Bri Bri Leather Belt leather is sourced from the finest tanneries in the world, and each belt is hand-cut and hand-stitched to the highest standard. The buckles are also made of premium quality metal and are designed to be both stylish and durable. Every belt is inspected carefully to ensure that the quality is up to B-Low The Belt's high standards.
The leather used is of the highest quality, and the hardware used is also strong and durable.
The Bri Bri Leather Belt B-Low The Belt is timeless, classic, and modern. The belt can be worn for any occasion, from the office to a night out. The leather used is diverse, ranging from smooth and supple to textured and distressed. The variety of colors provided allows customers to add a personal touch to any outfit.
B-Low The Belt strives to provide every customer with the highest quality leather belts. Each belt is made to order and comes with a lifetime warranty. From the design to the craftsmanship, B-Low The Belt's leather belts are designed to last a lifetime. Paired with the right accessories, they are sure to turn heads and make a lasting impression.
Get your hands on the hottest trend and show off your clever style.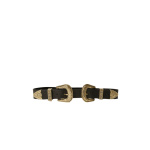 Waist Belt
Strap Width 1.5" (3.8 cm)
Buckle Height 2.5" (6.35 cm)
Genuine Leather with Suede Lining
Imported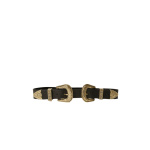 X-Small: 26.5″ (67.3 cm)
Small: 28″ (71.1 cm)
Medium: 30″ (76.2 cm)
Large: 31.5″ (80 cm)
X-Large: 33″ (83.8 cm)
If you want to wear this style on the hips then size up.
Measurement is taken from the buckle point to the second to last hole on the extender while both the belt body and extender are fastened together at the second hole.
PRODUCTION AND SHIPPING DETAILS
Shipping directly from The USA.
Ready to ship items in 3-5 working days.