Verdelimon
Meaning "victory" in Greek, the Nilo bottoms are prized as a playful remake of our quintessential high-waisted bottoms The addition of a forgiving and feminine smocked waist triumphs in accentuating natural feminine curves. Snug to the hip, these vintage-inspired bottoms stun in their classic aesthetic. The Nilo bottom is available in your choice of playful prints and classic colour-ways inspired by the deep blue sea.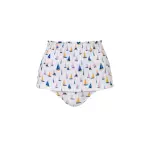 SIZE CHART BOTTOM
US/XS (cm):- waist (58-62), hips (87-91)
US/XS (in):- waist (23-25), hips (34-36)
US/ S (cm):- waist (62-66), hips (91-95)
US/ S (in):- waist (25-27), hips (36-38)
US/ M (cm):- waist (66-70), hips (95-99)
US/ M (in):- waist (27-29), hips (38-40)
US/ L (cm):- waist (66-70), hips (99-103)
US/ L (in):- waist (29-31), hips (40-42)
US/XL (cm):- waist (70-74), hips (103-107)
US/XL (in):- waist (31-33), hips (42-44)
This is a delicate garment. Wash it yourself with warm water. Do not use washer or dryer. Do not dry it in the sun.
VerdeLimon Flirty, fun, and adventure-friendly, VerdeLimon offers sophisticated swimwear for contemporary women. Designed in Colombia using sustainable sourcing and ethical production, Verde Limon's tribute to women is reflected in the aura of the brand's designs. Employing female craftsman empowers our community, as we collectively encourage our customers to embrace their feminine strength. Inspiration for our seasonal collections is drawn from flora, fauna, animals, and landscapes of the world, resulting in perfectly whimsical and cheeky swimwear. Varying cuts and styles are equally charismatic with colorful patterns and design motifs, from string bikinis and triangle tops to retro high-waist bottoms and polished one pieces.