Royal purple python skin card holder
BANGKOK BOOTERY Renowned for the use of exotic skins and impeccable craftsmanship. Even more, the Thai designer Bangkok Bootery creates ranges with luxurious python leather. The structured silhouette of the python leather card holder comes in different colors to complete your look.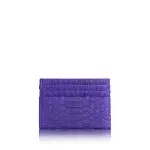 BANGKOK BOOTERY renowned since 1937 for their use of exotic leather and flawless craftsmanship, Bangkok Bootery creates some of the world's finest exotic leather products from materials such as crocodile, alligator, ostrich, & python leather.
Card holder
Genuine Python leather
Handmade in Thailand
Available in size: 10 cm
To maintain a beautiful shine wipe with a clean polish cloth to remove oils and perspiration. Avoid contact with harsh chemicals or perfumes.