Rasario
Women's Brown Dress
Rasario Brown Velvet Corset Maxi Dress With A Draped Skirt
• Incorporate the Velvet Maxi Dress into your evening wear collection, boasting a Side Slit for added allure. Defined by its minimalist approach, this dress caters to your preference for refined and contemporary aesthetics.
• Sumptuous velvet introduces an opulent touch, while the prominent slit imbues the ensemble with an element of intrigue. Strategically designed to evoke assurance and grace across diverse settings, this dress serves as a versatile choice for a range of occasions.

Rasario Velvet Corset Maxi Dress With A Draped Skirt is a must-have item for any fashion-forward wardrobe. It is a stunningly gorgeous ensemble that has the perfect balance of style, sophistication, and elegance. The fabric is lightweight, yet structured and allows for the right amount of movement for a beautiful silhouette.

The color is soft and feminine, making it the perfect option for those looking to make a statement. The dresses include a range of sweetheart necklines, a long and full A-line skirt, and flattering pleats. Paired with a pair of heels and simple accessories, the Rasario Brown dress is an unbeatable look for any special occasion. With its classic, timeless style, this dress will be a forever staple in your wardrobe.

Whether you're at a wedding, cocktail party, or just day-to-day, the Rebecca Vallance Brown  dress is sure to make you look and feel beautiful.

Rasario is a Russian fashion designer who has become renowned for her sophisticated and modern designs. Her signature style is characterized by bold colors, intricate detailing, and luxurious fabrics. Her dresses are perfect for any special occasion, from a night out on the town to a formal event.

Rasario Velvet Corset Maxi Dress With A Draped Skirt is designed to flatter your body and make the wearer feel confident and beautiful. With a range of styles and silhouettes, there is something for everyone. Whether you're looking for a classic little black dress or a statement-making gown, Rasario has you covered.

Get your hands on the hottest trend and show off your clever style. How to style maxi dress

You may want to check out our styling edit and learn more about how to style a maxi dress, and how to wear red and green colors in the season trend. How to style maxi dress

VIEW MORE: Rasario, Fur Coats, Sable Coat, Mink Coats, Coats, Designers, British Designers, Arab Designers, Women's, Women's Clothing, Modern Modesty, The Dress Edit, The Refresh Edit,  Dresses, cocktail party Dresses, Midi Dresses, Maxi Dresses, Tops, Skirts, cocktail parties. luxury kaftan dresses, Aje, Wonderland Kaftan, feather dresses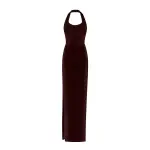 • Composition: 60% viscose, 40% silk Lining: 98% polyester, 2% elastane
PRODUCTION AND SHIPPING DETAILS
Shipping directly from our factory in Moscow.
Ready to ship items in 3-7 working days.