Introducing the Arena Martinez Lum black blazer with gold buttons – a timeless piece of fashion that will add a touch of sophistication to any wardrobe. Crafted from a lightweight, breathable fabric, this blazer is designed to keep you comfortable and stylish all day long. The classic black hue is complemented by the gold buttons, which add a touch of glamour and elegance. The tailored fit ensures a flattering silhouette, while the two front pockets provide practicality.
This blazer is perfect for any occasion, from the office to a night out. It can be dressed up with a pair of trousers and a blouse, or dressed down with jeans and a t-shirt. The versatility of this piece makes it a great investment for any woman's wardrobe.
The Arena Martinez Lum black blazer with gold buttons is a timeless piece that will never go out of style. It offers a classic look with a modern twist, making it the perfect addition to any wardrobe. With its lightweight fabric and tailored fit, this blazer is sure to keep you looking and feeling your best. Invest in this timeless piece today and enjoy the sophistication and style it brings to your wardrobe.
Blazer jacket with a classic cut.
Colored jacket, multicolored.
Matching jacket with our "LUM" pants.
Close up of a lined button.
Blazer inspired by the word of the contemporary artist Papartus.
Unique piece, within the edition of this garment each blazer is unique.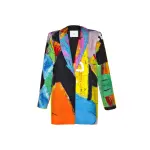 Arena Martinez is a brand that brings Contemporary art to another dimension. To our bodies, to our skin. Fashion and Art are worlds where creativity is oxygen and talent is water. We merge these spheres together, creating a new platform for these worlds to coexist.
Every collection is inspired on a unique artist. We take the time to know each artist and their work, we then hang out in their studio to see them in their element and understand all the essence and passion that goes into each of their pieces. We collaborate by selecting a few of their works to ultimately transform them into wearable pieces, letting art be with you wherever you go.
The size is large, the size of the image is S and is equivalent to a Spanish size 36.
100% silky polyester.
Handwash in cold water or dry cleaning.