Yves Salomon
Women's Cashmere Wool Cape
Yves Salomon Cashmere Wool Cape
A long and enveloping cape to combine comfort with elegance. Designed in cashmere wool, leather details on the bias and pocket entries add a touch of contrast. Featuring a rounded neckline, this model offers a retro yet resolutely modern look.


Yves Salomon a French luxury apparel designer and brand known for its traditional, high-quality materials and chic, timeless designs. Established in 1929 by Yves Salomon and his wife Madeleine, the company has a long and elegant history of creating classic furs and outerwear of the highest quality. The brand has maintained its high standards for nearly ninety years, making it one of the world's leading luxury apparel designers.

Each Cashmere Wool Cape is designed with the finest quality fur, with expert tailoring that accentuates curves and creates a flattering silhouette. The Blue palette is rich and varied, with deep jewel tones, soft pastels, and bold prints that make a statement. The Cashmere Wool Cape is versatile enough to be worn for any occasion, from a formal gala to a casual brunch with friends. Paired with the right accessories, they are sure to turn heads and make a lasting impression.


The Yves Salomon Cashmere Wool Cape is the perfect choice for the woman who wants to look and feel her best, no matter where she goes.


Get your hands on the hottest trend and show off your clever style. How to style maxi dress


You may want to check out our styling edit and learn more about how to style a maxi dress, and how to wear red and green colors in the season trend. How to style maxi dress


VIEW MORE: Fur Coats, Sable Coat, Mink Coats, Coats, Designers, British Designers, Arab Designers, Women's, Women's Clothing, Modern Modesty, The Dress Edit, The Refresh Edit,  Dresses, cocktail party Dresses, Midi Dresses, Maxi Dresses, Tops, Skirts, cocktail parties. luxury kaftan dresses, Aje, Wonderland Kaftan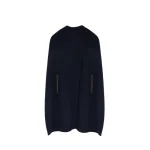 – 90% Wool 10% Cashmere
– Leather: 100% Lamb
Dry Clean only

This model fits normally, take your usual size.


– Loose fit
– Rounded neckline
– Leather details (bias and pocket entries)
– Length 104 cm



PRODUCTION AND SHIPPING DETAILS
Shipping directly from Italy.
Ready to ship items in 3-5 working days.